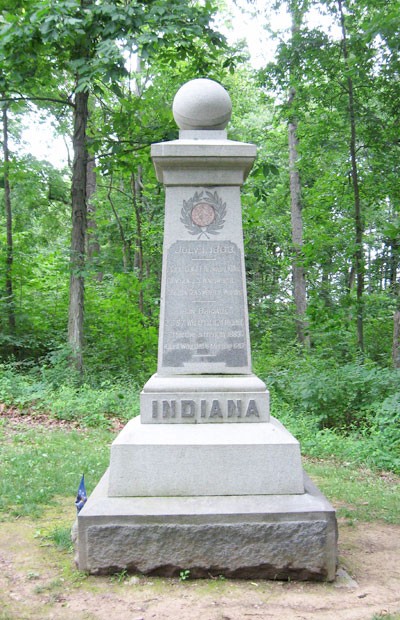 Monument to the 19th Indiana Infantry at Gettysburg
About Us
We are amateur and professional historians in Central Indiana dedicated to studying and understanding the American Civil War. We welcome anyone interested in the American Civil War to join the ICWRT. Annual dues are $30 for an individual, $35 for a family,or $15 for a student. The dues are used to defray production costs of our newsletter, Hardtack, and other programs. We invite you to attend a meeting as a guest and we feel that you will enjoy your visit and enlist. To enlist for the upcoming campaign, Click Here for a membership form


Next Program
All Programs are Free & Open to the Public
What:
Honest Abe
Who:
Danny Russel
When:
Monday
December 8, 2014 at 7:30PM
Where:
Indiana Historical Society (Directions)
A two-time grant recipient honored by the Indiana Arts Commission for his theatrical work, Danny Russel utilized funds to conduct extensive research into Abraham Lincoln's life and career and has been touring the Midwest as Honest Abe since 2009. His portrayal focused largely on Lincoln's overlooked Hoosier boyhood but also details his failures in business, his success as a prairie lawyer, his courtship of Mary and the notorious leniency he displayed toward his four beloved sons, his burgeoning political ambitions, his life in the White House and the strong faith which sustained him throughout the Civil War. Enjoy legendary jokes and historic speeches ("A House Divided," "Gettysburg Address" and "Second Inaugural") as President Lincoln arrives to inspire and entertain on December 8th.

Danny Russel is a professional actor with more than 25 years of stage credits including appearances at Beef & Boards, Phoenix Theatre, Lilly Theatre, City Center, Children's Theatre Institute, Conner Prairie, Indiana State Museum and many other venues.
2014-2015 Program Schedule
| | | |
| --- | --- | --- |
| Sept. 11, 2014 | Northern Civil War Prison Camps | Gerald Jones |
| Oct. 9, 2014 | Battle of Richmond, Kentucky | Phillip Seyfrit |
| Nov. 10, 2014 | The Dawn of the Political Cartoon: The Civil War Era | Scott Schroeder |
| Dec. 8, 2014 | Honest Abe | Danny Russel |
| Jan. 12, 2015 | The Civil War Road Trip Series | Michael Weeks |
| Feb. 9, 2015 | Lincoln and the Constitution | Brian Dirck |
| Mar. 9, 2015 | Civil War Medicine | Fred Schaefer |
| Apr. 13, 2015 | Maggie: The Civil War Journals of Margaret Nichol Vaulx | Ross Hudgins |
| May 14, 2015 | Major Martin Delaney: Highest ranking black Civil War officer | Khabir Shareef |
| June 8, 2015 | Six Turning Points of the American Civil War | Ed Bonekemper |

Click here for a copy of the current Hardtack newsletter.

Click here for information on a book describing the first 50 years of the Indianapolis Civil War Round Table