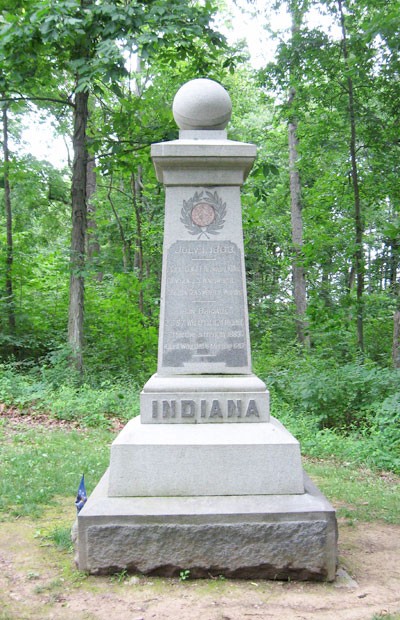 Monument to the 19th Indiana Infantry at Gettysburg
About Us
We are amateur and professional historians in Central Indiana dedicated to studying and understanding the American Civil War. We welcome anyone interested in the American Civil War to join the ICWRT. Annual dues are $30 for an individual, $35 for a family,or $15 for a student. The dues are used to defray production costs of our newsletter, Hardtack, and other programs. We invite you to attend a meeting as a guest and we feel that you will enjoy your visit and enlist. To enlist for the upcoming campaign, Click Here for a membership form


Next Program
All Programs are Free & Open to the Public
What:
Maggie: The Civil War Journals of Margaret Nichol Vaulx
Who:
Ross Hudgins
When:
Monday
April 13, 2015 at 7:30PM
Where:
Indiana Historical Society (Directions)
It was 1862 when a 17-year-old Margaret Nichol Vaulx, growing up during a time of great national strife wrote the words, "that I may be in after years an ornament to society and the delight of my dear parents." She came of age during the American Civil War and has left us writings which are that very ornament which she so prophetically spoke of. Margaret (hereafter known as Maggie) was indeed the delight of her dear parents and of future Vaulx generations. Maggie's journals have been described as both national and state treasures and as one Belmont University journalism instructor said, "she can be compared to a civil war Anne Frank."

Ross Hudgins was born in Nashville, Tennessee on August 2, 1950 to Charles and Claudia Jones Hudgins. At that time, his family was living at the Separation Center located between Radnor Yard and Franklin Pike. His family moved to East Nashville in the early 1950s and subsequently to Williamson County, Tennessee in 1958. There at Old New Hope School while in the second grade, he met Miss Marsha D. Hughes. They were close friends throughout their school years. They dated after graduation and married in 1970. The marriage produced five wonderful children and four beautiful grandchildren. Except for a six-year military service and several years out of the area with the Tennessee Valley Authority, Fairview was his family home from 1973 - 2013. He now lives in Sioux City, Iowa, and his brother Charles lives in Indiana.
2014-2015 Program Schedule
| | | |
| --- | --- | --- |
| Sept. 11, 2014 | Northern Civil War Prison Camps | Gerald Jones |
| Oct. 9, 2014 | Battle of Richmond, Kentucky | Phillip Seyfrit |
| Nov. 10, 2014 | The Dawn of the Political Cartoon: The Civil War Era | Scott Schroeder |
| Dec. 8, 2014 | Honest Abe | Danny Russel |
| Jan. 12, 2015 | The Civil War Road Trip Series | Michael Weeks |
| Feb. 9, 2015 | Lincoln and the Constitution | Brian Dirck |
| Mar. 9, 2015 | Civil War Medicine | Fred Schaefer |
| Apr. 13, 2015 | Maggie: The Civil War Journals of Margaret Nichol Vaulx | Ross Hudgins |
| May 14, 2015 | Major Martin Delaney: Highest ranking black Civil War officer | Khabir Shareef |
| June 8, 2015 | Six Turning Points of the American Civil War | Ed Bonekemper |

Click here for a copy of the current Hardtack newsletter.

Click here for information on a book describing the first 50 years of the Indianapolis Civil War Round Table