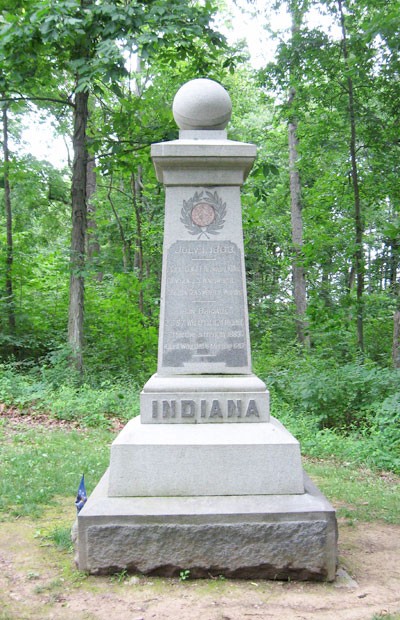 Monument to the 19th Indiana Infantry at Gettysburg
About Us
We are amateur and professional historians in Central Indiana dedicated to studying and understanding the American Civil War. We welcome anyone interested in the American Civil War to join the ICWRT. Annual dues are $30 for an individual, $35 for a family,or $15 for a student. The dues are used to defray production costs of our newsletter, Hardtack, and other programs. We invite you to attend a meeting as a guest and we feel that you will enjoy your visit and enlist. To enlist for the upcoming campaign, Click Here for a membership form


Next Program
All Programs are Free & Open to the Public
What:
Lew Wallace's Civil War Career
Who:
Ray Boomhower
When:
Monday
January 9, 2017, at 7:30 p.m
Where:
Indiana Historical Society Auditorium (Directions)


At various times in his remarkable life, Lew Wallace of Indiana was a lawyer, a state senator, vice president of the court-martial that tried the conspirators behind the assassination of President Abraham Lincoln, governor of the New Mexico Territory during the days of outlaw Billy the Kid, best-selling author, and a diplomat who represented the United States in Turkey. Ray E. Boomhower will examine Wallace's turbulent career as a Civil War officer. Boomhower will track Wallace as he advances from colonel of the Eleventh Indiana to promotion to major general and subsequent downfall following the Battle of Shiloh. He will also talk about Wallace's defense of Cincinnati from Confederate attack and the resurrection of his military career as commander of the Middle Department and role in saving Washington, D.C. from Confederate attack at the Battle of Monocacy.

Ray Boomhower is interim senior director of the Indiana Historical Society Press, where he also is editor of the IHS's popular history magazine Traces of Indiana and Midwestern History. In addition to his Wallace biography, Boomhower has written books on such notable Hoosiers as Gus Grissom, Ernie Pyle, May Wright Sewall, and John Bartlow Martin. He is currently writing a book for Indiana University Press on World War II correspondent Robert L. Sherrod, who covered the Pacific war for Time magazine.
2016-2017 Program Schedule
| | | |
| --- | --- | --- |
| Sept 12, 2016 | Fire in the Water | James Alexander Thom |
| Oct. 10, 2016 | Who Was Private John Rooks? : Counties Named for Civil War Combat Deaths | Charlie Aiken |
| Nov. 14, 2016 | The War Not Forgotten - Civil War Soldiers, Central State Hospital and PTSD | Robert Houghtalen |
| Dec. 12, 2016 | Maps, Mapping & Mapmakers of the Civil War: A Novice Explorer's Perspective | Lou Malcomb |
| Jan. 9, 2017 | Lew Wallace's Civil War Career | Ray Boomhower |
| Feb. 13, 2017 | Paying for the Civil War: Taxes, Internal Revenue and Enrolled Agents | Jim Floyd |
| Mar. 13, 2017 | Mr. Lincoln's Brown Water Navy | Gary Joiner |
| Apr. 10, 2017 | A Visit with Jennie Wade's Mother | Connie Hansen |
| May 8, 2017 | The Murder of Major General William "Bull" Nelson | Robert I. Girardi |
| June 12, 2017 | Backstage at the Lincoln Assassination: The Untold Story of the Actors and Stagehands at Ford's Theatre | Thomas Bogar |

Click here for a copy of the current Hardtack newsletter.

Click here for information on a book describing the first 50 years of the Indianapolis Civil War Round Table