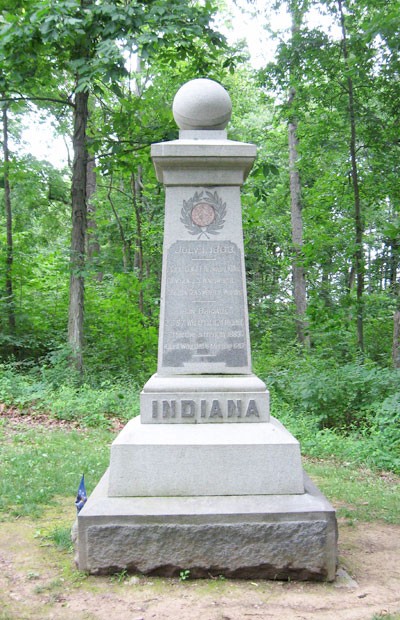 Monument to the 19th Indiana Infantry at Gettysburg
About Us
We are amateur and professional historians in Central Indiana dedicated to studying and understanding the American Civil War. We welcome anyone interested in the American Civil War to join the ICWRT. Annual dues are $30 for an individual, $35 for a family,or $15 for a student. The dues are used to defray production costs of our newsletter, Hardtack, and other programs. We invite you to attend a meeting as a guest and we feel that you will enjoy your visit and enlist. To enlist for the upcoming campaign, Click Here for a membership form


Next Program
All Programs are Free & Open to the Public
What:
Civil War Medicine
Who:
Fred Schaefer
When:
Monday
March 9, 2015 at 7:30PM
Where:
Indiana Historical Society (Directions)
Civil War medicine was a mixture of science, experience and experiment. Although severely ignorant (and often dangerous) by modern medical standards, many Civil War physicians were nevertheless intelligent, hard-working, dedicated men, who did their best to alleviate the incredible suffering brought on by wartime conditions in camp and on the battlefield. With music, contemporary accounts, slides, and first-person living history demonstrations, Civil War Medical Historian Fred Schaefer will present a brief study of this important part of the Civil War and the Civil War soldier's experience..

Fred Schaefer is a longtime member of the Society of Civil War Surgeons. Fred is a Living Historian in which he portrays Dr. William Henry Wishard. A graduate of I-V Tech College & Indiana University, Fred is a Certified Health Care Manager, Certified Surgical First Assistant, and Orthopedic Specialist.

Fred has worked at Methodist Hospital in Indianapolis in the 1970s as a Surgical Technologist, and for the last 35 years at "OrthoIndy," where he is a Surgical First Assistant, and Manager for the 17 member OrthoIndy's CSFA-Pool.

Fred has been studying and presenting Civil War Medical knowledge and techniques, to Civil War Roundtables, Re-enactments, Medical Conferences, Museums, and Schools for approx. 25 years.

Fred's antique Medical Surgical Instruments & Equipment can be viewed at the Indiana State Library, and also, at Colonel Eli Lilly Civil War Museum, Soldiers and Sailors Monument in downtown Indianapolis.
2014-2015 Program Schedule
| | | |
| --- | --- | --- |
| Sept. 11, 2014 | Northern Civil War Prison Camps | Gerald Jones |
| Oct. 9, 2014 | Battle of Richmond, Kentucky | Phillip Seyfrit |
| Nov. 10, 2014 | The Dawn of the Political Cartoon: The Civil War Era | Scott Schroeder |
| Dec. 8, 2014 | Honest Abe | Danny Russel |
| Jan. 12, 2015 | The Civil War Road Trip Series | Michael Weeks |
| Feb. 9, 2015 | Lincoln and the Constitution | Brian Dirck |
| Mar. 9, 2015 | Civil War Medicine | Fred Schaefer |
| Apr. 13, 2015 | Maggie: The Civil War Journals of Margaret Nichol Vaulx | Ross Hudgins |
| May 14, 2015 | Major Martin Delaney: Highest ranking black Civil War officer | Khabir Shareef |
| June 8, 2015 | Six Turning Points of the American Civil War | Ed Bonekemper |

Click here for a copy of the current Hardtack newsletter.

Click here for information on a book describing the first 50 years of the Indianapolis Civil War Round Table