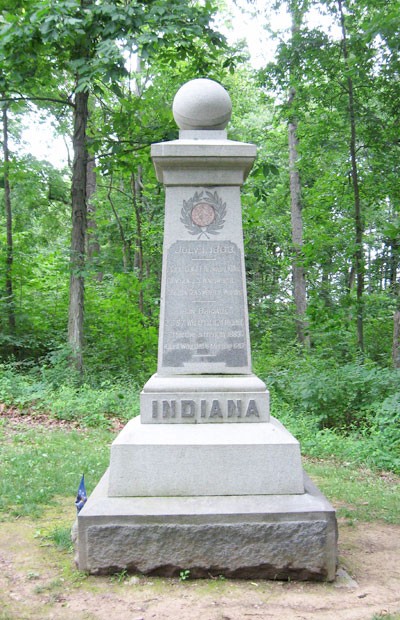 Monument to the 19th Indiana Infantry at Gettysburg
About Us
We are amateur and professional historians in Central Indiana dedicated to studying and understanding the American Civil War. We welcome anyone interested in the American Civil War to join the ICWRT. Annual dues are $30 for an individual, $35 for a family,or $15 for a student. The dues are used to defray production costs of our newsletter, Hardtack, and other programs. We invite you to attend a meeting as a guest and we feel that you will enjoy your visit and enlist. To enlist for the upcoming campaign, Click Here for a membership form


Next Program
All Programs are Free & Open to the Public
What:
The Lost Gettysburg Address: Charles Anderson's Civil War Odyssey
Who:
David Dixon
When:
Monday
September 11, 2017, at 6:45 p.m
Where:
MCL Cafeteria - Township Line
(2370 West 86th Street)


Few remember that two famous orators shared the stage with Lincoln at the Gettysburg dedication. The day's concluding speech remained lost until recently, when it was found at a remote ranch in Wyoming. Forgotten too was the incredible true story of its author, Charles Anderson, Born on a Kentucky slave plantation, Anderson delivered a bold Union speech in San Antonio just weeks after Lincoln's election. Imprisoned by Confederate officers, he makes a daring escape, and arrives in New York a national hero. Anderson nearly lost his life in the battle of Stones River. Charles Anderson held steadfast to his convictions, remaining loyal to the Union at a time when nearly all Southerners favored secession.

David Dixon earned his M.A. in history from the University of Massachusetts in 2003. He has published numerous articles in scholarly journals and magazines. His short biography of U.S. and Confederate congressman Augustus R. Wright appeared in The Georgia Historical Quarterly in 2010. For the past several years, the author has been retracing Anderson's incredible odyssey through some of the most dramatic events of the period. He will be signing books and selling his book for $19 and two books for $29.
2017-2018 Program Schedule
| | | |
| --- | --- | --- |
| Sept. 11, 2017 | The Lost Gettysburg Address: Charles Anderson's Civil War Odyssey | David Dixon |
| Oct. 9, 2017 | The Angel of Marye's Heights | Anthony J. Ziebol |
| Nov. 13, 2017 | The American Civil War and Religion | David Garshaw |
| Dec. 11, 2017 | The Kimberlins Go to War: A Union Family in Copperhead Country | Mike Murphy |
| Jan. 8, 2018 | Surveillance and Spies in the Civil War: Exposing Confederate Conspiracies in America's Heartland | Stephen Towne |
| Feb. 12, 2018 | Indianapolis and the War of the Rebellion | Fred Schaefer |
| Mar. 12, 2018 | 58th Indiana and their role at Stone's River | Kraig McNutt |
| Apr. 9, 2018 | Cold Blooded Envenomation of 1861-65 | Mark Laubacher |
| May 14, 2018 | Above Us or Around Us: The Story and Men of the Bloody Eighth | Jenny Thompson |
| June 11, 2018 | On a Great Battlefield: The Making, Management, and Memory of Gettysburg National Military Park, 1933-2013 | Jennifer Murray |

Click here for a copy of the current Hardtack newsletter.

Click here for information on a book describing the first 50 years of the Indianapolis Civil War Round Table