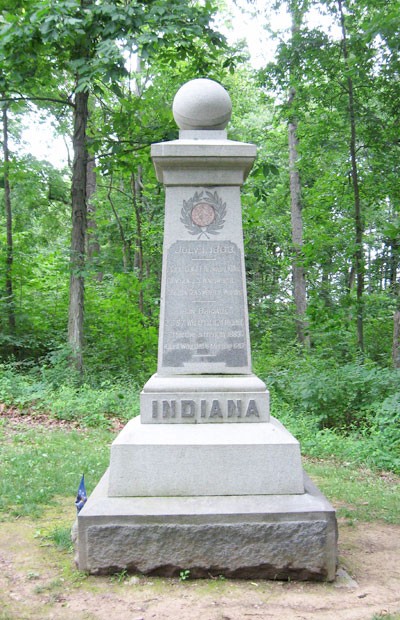 Monument to the 19th Indiana Infantry at Gettysburg
About Us
We are amateur and professional historians in Central Indiana dedicated to studying and understanding the American Civil War. We welcome anyone interested in the American Civil War to join the ICWRT. Annual dues are $30 for an individual, $35 for a family,or $15 for a student. The dues are used to defray production costs of our newsletter, Hardtack, and other programs. We invite you to attend a meeting as a guest and we feel that you will enjoy your visit and enlist. To enlist for the upcoming campaign, Click Here for a membership form


Next Program
All Programs are Free & Open to the Public
What:
Maps, Mapping & Mapmakers of the Civil War: A Novice Explorer's Perspective
Who:
Lou Malcomb
When:
Monday
December 12, 2016, at 7:30 p.m
Where:
Indiana Historical Society Auditorium (Directions)


Lou is Emerita Librarian Government Information, Maps and the Geo-Sciences at IU. She began studying the Civil War seriously after she retired in 2014, particularly maps and mapmaking. She will describe what she has learned about Civil War maps, mapmaking and mapmakers, but will also explore the availability of Civil War maps online and at various repositories.

Lou Malcomb served as a librarian for the IU Bloomington Libraries for 39 years, both as Head of Undergraduate Library Services and Head of Government Information, Maps, and Microforms and Librarian for the Geosciences. She is best known for her expertise with state and federal government information. She has also been active in the restoration and preservation of historic cemeteries through her work with our own Monroe County History Center's Cemetery Committee. She is also an active member of the Indiana Barn Foundation, the Government Documents Roundtable, and the Association of Gravestone Studies.
2016-2017 Program Schedule
| | | |
| --- | --- | --- |
| Sept 12, 2016 | Fire in the Water | James Alexander Thom |
| Oct. 10, 2016 | Who Was Private John Rooks? : Counties Named for Civil War Combat Deaths | Charlie Aiken |
| Nov. 14, 2016 | The War Not Forgotten - Civil War Soldiers, Central State Hospital and PTSD | Robert Houghtalen |
| Dec. 12, 2016 | Maps, Mapping & Mapmakers of the Civil War: A Novice Explorer's Perspective | Lou Malcomb |
| Jan. 9, 2017 | Lew Wallace's Civil War Career | Ray Boomhower |
| Feb. 13, 2017 | Paying for the Civil War: Taxes, Internal Revenue and Enrolled Agents | Jim Floyd |
| Mar. 13, 2017 | Mr. Lincoln's Brown Water Navy | Gary Joiner |
| Apr. 10, 2017 | A Visit with Jennie Wade's Mother | Connie Hansen |
| May 8, 2017 | The Murder of Major General William "Bull" Nelson | Robert I. Girardi |
| June 12, 2017 | Backstage at the Lincoln Assassination: The Untold Story of the Actors and Stagehands at Ford's Theatre | Thomas Bogar |

Click here for a copy of the current Hardtack newsletter.

Click here for information on a book describing the first 50 years of the Indianapolis Civil War Round Table