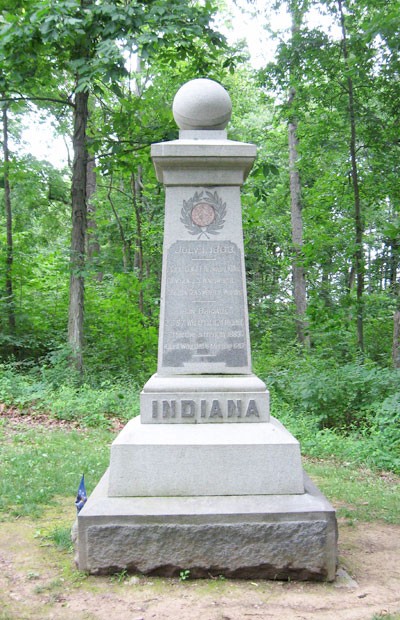 Monument to the 19th Indiana Infantry at Gettysburg
About Us
We are amateur and professional historians in Central Indiana dedicated to studying and understanding the American Civil War. We welcome anyone interested in the American Civil War to join the ICWRT. Annual dues are $30 for an individual, $35 for a family,or $15 for a student. The dues are used to defray production costs of our newsletter, Hardtack, and other programs. We invite you to attend a meeting as a guest and we feel that you will enjoy your visit and enlist. To enlist for the upcoming campaign, Click Here for a membership form


Next Program
All Programs are Free & Open to the Public
What:
A Visit with Jennie Wade's Mother
Who:
Connie Hansen
When:
Monday
April 10, 2017, at 7:30 p.m
Where:
Indiana Historical Society Auditorium (Directions)


The story, a historical novel, is about Jennie Wade, the only civilian killed during the Battle of Gettysburg. Since her book was published, our speaker has taken it a step farther by adopting a first-person presentation as Mary Wade, Jennie's mother. She speaks "first-hand," in period attire, about what it was like to experience the battle, and the horror of watching her daughter die practically under her own nose. At her first presentation, she received a standing ovation and has since been scheduled to perform at the Civil War Museum in Kenosha, Military History Fest in St. Charles, IL, as well as at the Waukesha Civil War Round Table. Her presentation takes approximately forty minutes, and she tries to allow a question/answer session afterwards, along with the opportunity to sell her book Biscuits and Bullets: A Gettysburg Story (cost is $10).

Connie Hansen has been an avid American history buff since she was a little girl, making her first trip to Gettysburg when she was still in grade school. On that trip, she heard the story of Jennie Wade and her tragic death during the battle and knew that the story had to be told in more than a text-bookish, nonfiction format. It took her years of research and many trips to Gettysburg before she saw the book come to fruition. She has slept in the house where Jennie was born, attended the church she attended, visited her grave, and strolled the streets of Gettysburg dressed in period attire (being a re-enactor has its merits!). Now, as Jennie's mother, she brings the story of the battle and their simple lives to life in a way that the book can't.
2016-2017 Program Schedule
| | | |
| --- | --- | --- |
| Sept 12, 2016 | Fire in the Water | James Alexander Thom |
| Oct. 10, 2016 | Who Was Private John Rooks? : Counties Named for Civil War Combat Deaths | Charlie Aiken |
| Nov. 14, 2016 | The War Not Forgotten - Civil War Soldiers, Central State Hospital and PTSD | Robert Houghtalen |
| Dec. 12, 2016 | Maps, Mapping & Mapmakers of the Civil War: A Novice Explorer's Perspective | Lou Malcomb |
| Jan. 9, 2017 | Lew Wallace's Civil War Career | Ray Boomhower |
| Feb. 13, 2017 | Paying for the Civil War: Taxes, Internal Revenue and Enrolled Agents | Jim Floyd |
| Mar. 13, 2017 | Mr. Lincoln's Brown Water Navy | Gary Joiner |
| Apr. 10, 2017 | A Visit with Jennie Wade's Mother | Connie Hansen |
| May 8, 2017 | The Murder of Major General William "Bull" Nelson | Robert I. Girardi |
| June 12, 2017 | Backstage at the Lincoln Assassination: The Untold Story of the Actors and Stagehands at Ford's Theatre | Thomas Bogar |

Click here for a copy of the current Hardtack newsletter.

Click here for information on a book describing the first 50 years of the Indianapolis Civil War Round Table