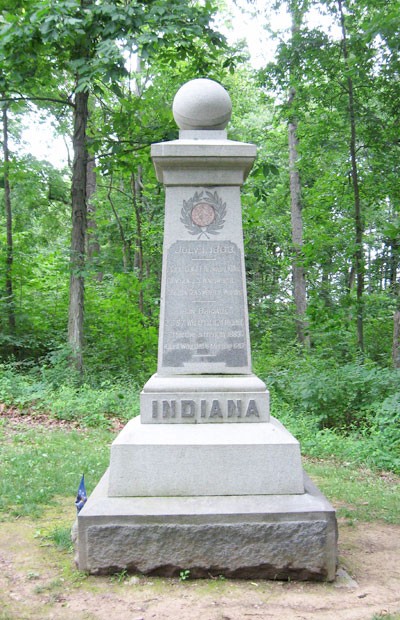 Monument to the 19th Indiana Infantry at Gettysburg
About Us
We are amateur and professional historians in Central Indiana dedicated to studying and understanding the American Civil War. We welcome anyone interested in the American Civil War to join the ICWRT. Annual dues are $30 for an individual, $35 for a family,or $15 for a student. The dues are used to defray production costs of our newsletter, Hardtack, and other programs. We invite you to attend a meeting as a guest and we feel that you will enjoy your visit and enlist. To enlist for the upcoming campaign, Click Here for a membership form


Next Program
All Programs are Free & Open to the Public
What:
Indianapolis & the War of the Rebellion
Who:
Fred Schaefer
When:
Monday
February 12, 2018, at 7:30 p.m
Where:
Indiana Historical Society Auditorium (Directions)


This presentation will be a brief history of Indianapolis during the Civil War 1861-65 with war installations (arsenals, hospitals, soldiers and family homes, camps with exact locations) and will also include post Civil War Indianapolis with National GAR encampment meetings, monuments and statues (Soldiers and Sailors Monument, O.P. Morton, etc.).

Fred Schaefer is a longtime member of the National "Society of Civil War Surgeons" (NSCWS). Fred is a living historian in which he portrays Dr. William H. Wishard from Indianapolis, Indiana. Fred has been presenting his Civil War medical knowledge and techniques, to Civil War Round Tables, Re-enactments, Medical Conferences, Museums, and Schools for over 25 years. Fred's antique Medical Surgical Instruments and Equipment can be viewed at the Colonel Eli Lilly's Civil War Museum, Soldiers and Sailors Monument in downtown Indianapolis.
2017-2018 Program Schedule
| | | |
| --- | --- | --- |
| Sept. 11, 2017 | The Lost Gettysburg Address: Charles Anderson's Civil War Odyssey | David Dixon |
| Oct. 9, 2017 | The Angel of Marye's Heights | Anthony J. Ziebol |
| Nov. 13, 2017 | The American Civil War and Religion | David Garshaw |
| Dec. 11, 2017 | The Kimberlins Go to War: A Union Family in Copperhead Country | Mike Murphy |
| Jan. 8, 2018 | Surveillance and Spies in the Civil War: Exposing Confederate Conspiracies in America's Heartland | Stephen Towne |
| Feb. 12, 2018 | Indianapolis and the War of the Rebellion | Fred Schaefer |
| Mar. 12, 2018 | Above Us or Around Us: The Story and Men of the Bloody Eighth | Jenny Thompson |
| Apr. 9, 2018 | Cold Blooded Envenomation of 1861-65 | Mark Laubacher |
| May 14, 2018 | James Davy's Civil War Diary | Meredith and Judy Wilson |
| June 11, 2018 | On a Great Battlefield: The Making, Management, and Memory of Gettysburg National Military Park, 1933-2013 | Jennifer Murray |

Click here for a copy of the current Hardtack newsletter.

Click here for information on a book describing the first 50 years of the Indianapolis Civil War Round Table