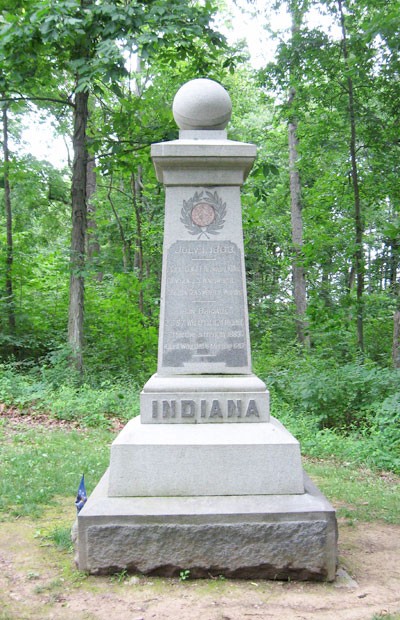 Monument to the 19th Indiana Infantry at Gettysburg
About Us
We are amateur and professional historians in Central Indiana dedicated to studying and understanding the American Civil War. We welcome anyone interested in the American Civil War to join the ICWRT. Annual dues are $30 for an individual, $35 for a family,or $15 for a student. The dues are used to defray production costs of our newsletter, Hardtack, and other programs. We invite you to attend a meeting as a guest and we feel that you will enjoy your visit and enlist. To enlist for the upcoming campaign, Click Here for a membership form


Next Program
All Programs are Free & Open to the Public
What:
Backstage at the Lincoln Assassination: The Untold Story of the Actors and Stagehands at Ford's Theatre
Who:
Thomas A. Bogar
When:
Monday
June 12, 2017, at 6:45 p.m
Where:
MCL Cafeteria - Township Line
(2370 West 86th Street)


April 14, 1865. Ford's Theatre, Washington, D.C. - 10:14 p.m. John Wilkes Booth pulls a trigger in the presidential balcony, leaps to the stage and escapes, as Abraham Lincoln lies mortally wounded. In the panic that follows, forty-six terrified actors, managers and stage hands scatter in and around the theatre as soldiers take up stations by the doors and the audience surges into the street chanting, "Burn the place down!"

This is the exquisitely detailed, untold story of Lincoln's assassination: of these forty-six theatre employees that night, and what each of them witnessed in the chaos-streaked hours before John Wilkes Booth was discovered to be the culprit. The stories of what happened to each of these witnesses after the investigation ends, is also told.

Thomas A. Bogar has taught theatre history, dramatic literature, and theatrical production for forty years, most recently at Hood College in Frederick, Maryland, and directed over seventy theatrical productions. He holds a Ph.D. in theatre history/literature/criticism from Louisiana State University. He will have books for sale: $20 for hardbacks, and $15 for paperbacks.
2016-2017 Program Schedule
| | | |
| --- | --- | --- |
| Sept 12, 2016 | Fire in the Water | James Alexander Thom |
| Oct. 10, 2016 | Who Was Private John Rooks? : Counties Named for Civil War Combat Deaths | Charlie Aiken |
| Nov. 14, 2016 | The War Not Forgotten - Civil War Soldiers, Central State Hospital and PTSD | Robert Houghtalen |
| Dec. 12, 2016 | Maps, Mapping & Mapmakers of the Civil War: A Novice Explorer's Perspective | Lou Malcomb |
| Jan. 9, 2017 | Lew Wallace's Civil War Career | Ray Boomhower |
| Feb. 13, 2017 | Paying for the Civil War: Taxes, Internal Revenue and Enrolled Agents | Jim Floyd |
| Mar. 13, 2017 | Mr. Lincoln's Brown Water Navy | Gary Joiner |
| Apr. 10, 2017 | A Visit with Jennie Wade's Mother | Connie Hansen |
| May 8, 2017 | The Murder of Major General William "Bull" Nelson | Robert I. Girardi |
| June 12, 2017 | Backstage at the Lincoln Assassination: The Untold Story of the Actors and Stagehands at Ford's Theatre | Thomas Bogar |

Click here for a copy of the current Hardtack newsletter.

Click here for information on a book describing the first 50 years of the Indianapolis Civil War Round Table