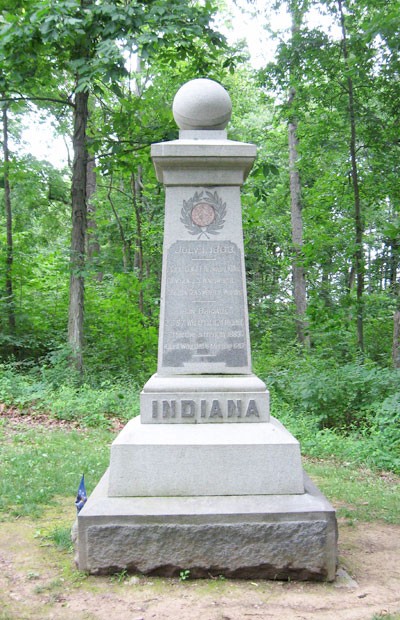 Monument to the 19th Indiana Infantry at Gettysburg
About Us
We are amateur and professional historians in Central Indiana dedicated to studying and understanding the American Civil War. We welcome anyone interested in the American Civil War to join the ICWRT. Annual dues are $30 for an individual, $35 for a family,or $15 for a student. The dues are used to defray production costs of our newsletter, Hardtack, and other programs. We invite you to attend a meeting as a guest and we feel that you will enjoy your visit and enlist. To enlist for the upcoming campaign, Click Here for a membership form


Next Program
All Programs are Free & Open to the Public
What:
The Murder of Major General William "Bull" Nelson
Who:
Robert I. Girardi
When:
Monday
May 8, 2017, at 7:30 p.m
Where:
Indiana Historical Society Auditorium (Directions)


Our speaker investigates the 1862 shooting of Union General William "Bull" Nelson by fellow Union Gen. Jefferson C. Davis in the Galt House in Louisville, KY. This took place in front of a number of witnesses, mostly fellow officers. Yet in 1864, Davis commanded troops in the Atlanta Campaign and the March to the Sea as well. How did he murder a fellow officer and get away with it?

Robert I. Girardi earned his M.A. in Public History at Loyola University of Chicago in 1991. He is a past president of the Civil War Round Table of Chicago, a fellow of the Company of Military Historians and is an associate member of the Sons of Union Veterans. In 2014, he was awarded the Iron Brigade Association Award for Civil War Scholarship by the Milwaukee CWRT. Robert has a lifelong interest in the Civil War and has studied all facets of the conflict. He speaks to groups of all ages and levels of expertise on multiple aspects of the Civil War, especially the experience of the common soldier, and the role of Illinois in the war. He is employed as a homicide detective by the Chicago Police Department. He has been a policeman since 1986, and a detective since 1992, on the South Side of Chicago.
2016-2017 Program Schedule
| | | |
| --- | --- | --- |
| Sept 12, 2016 | Fire in the Water | James Alexander Thom |
| Oct. 10, 2016 | Who Was Private John Rooks? : Counties Named for Civil War Combat Deaths | Charlie Aiken |
| Nov. 14, 2016 | The War Not Forgotten - Civil War Soldiers, Central State Hospital and PTSD | Robert Houghtalen |
| Dec. 12, 2016 | Maps, Mapping & Mapmakers of the Civil War: A Novice Explorer's Perspective | Lou Malcomb |
| Jan. 9, 2017 | Lew Wallace's Civil War Career | Ray Boomhower |
| Feb. 13, 2017 | Paying for the Civil War: Taxes, Internal Revenue and Enrolled Agents | Jim Floyd |
| Mar. 13, 2017 | Mr. Lincoln's Brown Water Navy | Gary Joiner |
| Apr. 10, 2017 | A Visit with Jennie Wade's Mother | Connie Hansen |
| May 8, 2017 | The Murder of Major General William "Bull" Nelson | Robert I. Girardi |
| June 12, 2017 | Backstage at the Lincoln Assassination: The Untold Story of the Actors and Stagehands at Ford's Theatre | Thomas Bogar |

Click here for a copy of the current Hardtack newsletter.

Click here for information on a book describing the first 50 years of the Indianapolis Civil War Round Table