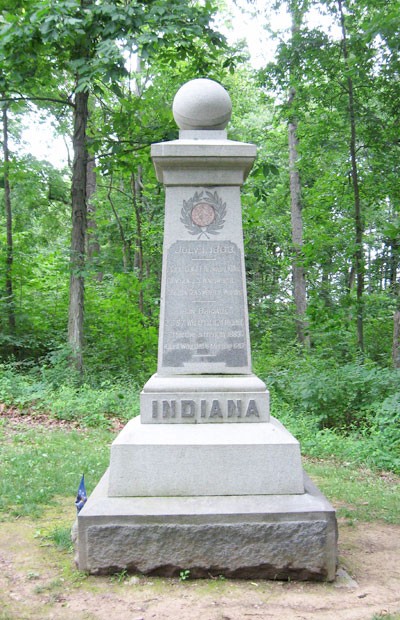 Monument to the 19th Indiana Infantry at Gettysburg
About Us
We are amateur and professional historians in Central Indiana dedicated to studying and understanding the American Civil War. We welcome anyone interested in the American Civil War to join the ICWRT. Annual dues are $30 for an individual, $35 for a family,or $15 for a student. The dues are used to defray production costs of our newsletter, Hardtack, and other programs. We invite you to attend a meeting as a guest and we feel that you will enjoy your visit and enlist. To enlist for the upcoming campaign, Click Here for a membership form


Next Program
All Programs are Free & Open to the Public
What:
Who Was Private John Rooks? : Counties Named for Civil War Combat Deaths
Who:
Charlie Aiken
When:
Monday
October 10, 2016, at 6:45 p.m
Where:
MCL Cafeteria - Township Line
(2370 West 86th Street)


Please note that this meeting is on a Monday at 6:45 PM at the Township Line MCL

There are 3,143 counties in the US. Forty-nine of these counties are named for the 41 persons out of the over 200,000 killed in battle during the Civil War. Who were these 41 eponymous USA and CSA personnel (none were from either Navy)? Why does Kansas account for almost half (23) of these counties? Roundtable members have heard of Generals Jackson, Lyon, Sedgwick, and McPherson, all of whom were famously killed in battle. Other generals along with colonels and majors are less well known. Junior officers and enlisted personnel would be mostly forgotten if not for having namesake counties. After a short orientation on the creation and naming of counties, we will find out about these persons and why counties were named for them.

Monroe County Civil War Roundtable member Charlie Aiken has had an unexplainable interest in counties since childhood. He has compiled two editions of The American Counties, a recognized reference book listing all 3,143 US counties. Each county entry includes the county seat, area, and population from every decennial census since 1950. The county's date of creation and name origin are also given. Charlie is one of 53 people known to have visited all 3,143 US counties. Rather than simply entering a county, he is the only person known to have personally photographed the courthouse in each county. This presentation combines Charlie's interests in counties and the Civil War. He will bring along a few copies of his book, The American Counties, which will be available for purchase. He notes that the publisher considers this to be a reference book that is priced accordingly. He can offer the book at $90.00. It costs $130.00 on Amazon, Barnes & Noble, and other sites online.
2016-2017 Program Schedule
| | | |
| --- | --- | --- |
| Sept 12, 2016 | Fire in the Water | James Alexander Thom |
| Oct. 10, 2016 | Who Was Private John Rooks? : Counties Named for Civil War Combat Deaths | Charlie Aiken |
| Nov. 14, 2016 | The War Not Forgotten - Civil War Soldiers, Central State Hospital and PTSD | Robert Houghtalen |
| Dec. 12, 2016 | Maps, Mapping & Mapmakers of the Civil War: A Novice Explorer's Perspective | Lou Malcomb |
| Jan. 9, 2017 | Lew Wallace's Civil War Career | Ray Boomhower |
| Feb. 13, 2017 | Paying for the Civil War: Taxes, Internal Revenue and Enrolled Agents | Jim Floyd |
| Mar. 13, 2017 | Mr. Lincoln's Brown Water Navy | Gary Joiner |
| Apr. 10, 2017 | A Visit with Jennie Wade's Mother | Connie Hansen |
| May 8, 2017 | The Murder of Major General William "Bull" Nelson | Robert I. Girardi |
| June 12, 2017 | Backstage at the Lincoln Assassination: The Untold Story of the Actors and Stagehands at Ford's Theatre | Thomas Bogar |

Click here for a copy of the current Hardtack newsletter.

Click here for information on a book describing the first 50 years of the Indianapolis Civil War Round Table