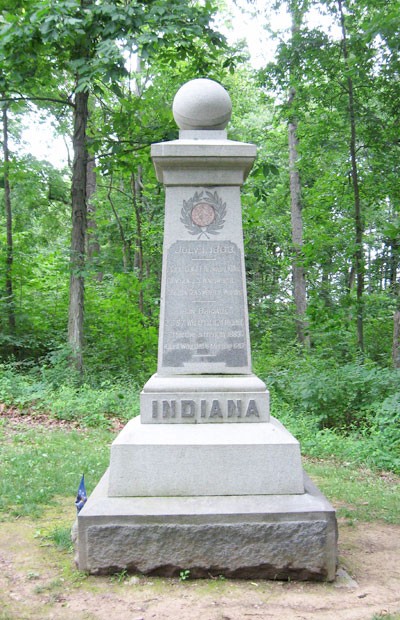 Monument to the 19th Indiana Infantry at Gettysburg
About Us
We are amateur and professional historians in Central Indiana dedicated to studying and understanding the American Civil War. We welcome anyone interested in the American Civil War to join the ICWRT. Annual dues are $30 for an individual, $35 for a family,or $15 for a student. The dues are used to defray production costs of our newsletter, Hardtack, and other programs. We invite you to attend a meeting as a guest and we feel that you will enjoy your visit and enlist. To enlist for the upcoming campaign, Click Here for a membership form


Next Program
All Programs are Free & Open to the Public
What:
The Kimberlins Go to War: A Union Family in Copperhead Country
Who:
Michael B. Murphy
When:
Monday
December 11, 2017, at 7:30 p.m
Where:
Indiana Historical Society Auditorium (Directions)


As July 7, 1861, dawned, war was in the air in Lexington, Indiana. The county seat of Scott County was abuzz with the latest news of the Southern rebellion. Word had come that William A. Sanderson had organized a new outfit, the Twenty-Third Indiana, and was recruiting throughout the Second Congressional District for men to join the regiment. Although Scott County had been rife with sympathy and support for the South, answering the call to serve the Union cause from the county were Jacob T. Kimberlin, a twenty-one-year-old farmhand; his older brother, John J.; and his cousins, William H.H. Kimberlin, Benjamin F. Kimberlin, and James Stark. These five young men could not have known at the time that none of them would ever again see their homes. They only knew that the Kimberlins were going to war. This is the story of the Kimberlin Family that sent thirty-three fathers and sons, brothers and cousins, to fight for the Union during the Civil War. Ten family members were killed, wounded, or died of battlefield disease, a 30 percent casualty rate. Their feelings about the war come from forty letters to and from the battlefield that have survived.

Michael B. Murphy is senior vice president of Hirons and Company, an Indianapolis advertising and public relations firm, and chairman of the board at Monarch Beverage. An Indiana state representative for sixteen years, Murphy received his degree in American studies from the University of Notre Dame and his masters degree in history from Indiana University Purdue University at Indianapolis in 2009.
2017-2018 Program Schedule
| | | |
| --- | --- | --- |
| Sept. 11, 2017 | The Lost Gettysburg Address: Charles Anderson's Civil War Odyssey | David Dixon |
| Oct. 9, 2017 | The Angel of Marye's Heights | Anthony J. Ziebol |
| Nov. 13, 2017 | The American Civil War and Religion | David Garshaw |
| Dec. 11, 2017 | The Kimberlins Go to War: A Union Family in Copperhead Country | Mike Murphy |
| Jan. 8, 2018 | Surveillance and Spies in the Civil War: Exposing Confederate Conspiracies in America's Heartland | Stephen Towne |
| Feb. 12, 2018 | Indianapolis and the War of the Rebellion | Fred Schaefer |
| Mar. 12, 2018 | 58th Indiana and their role at Stone's River | Kraig McNutt |
| Apr. 9, 2018 | Cold Blooded Envenomation of 1861-65 | Mark Laubacher |
| May 14, 2018 | Above Us or Around Us: The Story and Men of the Bloody Eighth | Jenny Thompson |
| June 11, 2018 | On a Great Battlefield: The Making, Management, and Memory of Gettysburg National Military Park, 1933-2013 | Jennifer Murray |

Click here for a copy of the current Hardtack newsletter.

Click here for information on a book describing the first 50 years of the Indianapolis Civil War Round Table