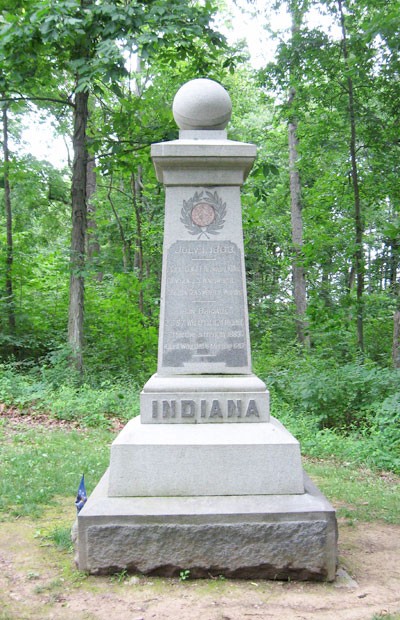 Monument to the 19th Indiana Infantry at Gettysburg
About Us
We are amateur and professional historians in Central Indiana dedicated to studying and understanding the American Civil War. We welcome anyone interested in the American Civil War to join the ICWRT. Annual dues are $30 for an individual, $35 for a family,or $15 for a student. The dues are used to defray production costs of our newsletter, Hardtack, and other programs. We invite you to attend a meeting as a guest and we feel that you will enjoy your visit and enlist. To enlist for the upcoming campaign, Click Here for a membership form


Next Program
All Programs are Free & Open to the Public
What:
Marching Home: Union Veterans and Their Unending Civil War
Who:
Brian Jordan
When:
Monday
May 9, 2016, at 7:30 p.m.
Where:
Indiana Historical Society Auditorium (Directions)


For well over a century, traditional Civil War histories have concluded in 1865, with a bitterly won peace and Union soldiers returning triumphantly home. Civil War historian Brian Matthew Jordan has created an entirely new narrative. These veterans - tending rotting wounds, battling alcoholism, campaigning for paltry pensions - tragically realized that they stood as unwelcome reminders to a new America eager to heal, forget, and embrace the freewheeling bounty of the Gilded Age. Mining previously untapped archives, Jordan uncovers anguished letters and diaries, essays by amputees, and gruesome medical reports, all deeply revealing of the American psyche.

Brian Jordan graduated in 2009 with a Bachelor of Arts in History and Civil War Era Studies from Gettysburg College. A native of northeastern Ohio, he discovered a passion for history at an early age. He is a frequent speaker at Civil War Round Tables nationwide, delivers popular tours for Gettysburg College's Civil War Institute and the Gilder Lehrman Institute of American History, and conducts seminars for various Teaching American History grant recipients. His published work has appeared in multiple journals including Civil War History and the Pennsylvania Magazine of History & Biography. Jordan is currently working on a Ph.D. in History at Yale University, and researching his next book, a cultural history of Union veterans.
2015-2016 Program Schedule
| | | |
| --- | --- | --- |
| Sept. 14, 2015 | Civil War Feuds: A Family Tradition | Peter Mullen |
| Oct. 12, 2015 | Alexander Gardner: Civil War Photographs and More | Steve Rolfe |
| Nov. 9, 2015 | William S. Rosecrans and the Union Victory | David Moore |
| Dec. 14, 2015 | Acoustic Shadows During the Civil War | Tony Roscetti |
| Jan. 11, 2016 | The Irish Brigade at Antietam | Tony Trimble |
| Feb. 8, 2016 | Abraham Lincoln's Boyhood Years | Alan Teller |
| Mar. 14, 2016 | The Battle of New Market | Dave Sutherland |
| Apr. 11, 2016 | The U.S.S. Constitution in the Civil War | Bruce Kolb |
| May 9, 2016 | Marching Home: Union Veterans and Their Unending Civil War | Brian Jordan |
| June 13, 2016 | Forbidden, Hidden, & Forgotten: Women in the Ranks During the Civil War | Shelby Harriel |

Click here for a copy of the current Hardtack newsletter.

Click here for information on a book describing the first 50 years of the Indianapolis Civil War Round Table