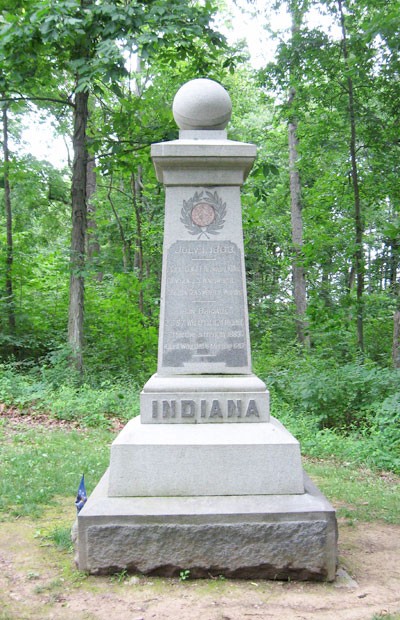 Monument to the 19th Indiana Infantry at Gettysburg
About Us
We are amateur and professional historians in Central Indiana dedicated to studying and understanding the American Civil War. We welcome anyone interested in the American Civil War to join the ICWRT. Annual dues are $30 for an individual, $35 for a family,or $15 for a student. The dues are used to defray production costs of our newsletter, Hardtack, and other programs. We invite you to attend a meeting as a guest and we feel that you will enjoy your visit and enlist. To enlist for the upcoming campaign, Click Here for a membership form


Next Program
All Programs are Free & Open to the Public
Please note that this meeting is on a Monday at 6:45 PM at the Township Line MCL
What:
The Angel of Marye's Heights: The True Story of Richard Kirkland
Who:
Anthony J. Ziebol
When:
Monday
October 9, 2017, at 6:45 p.m
Where:
MCL Cafeteria - Township Line
(2370 West 86th Street)


Would you risk your life to save your mortal enemy? Perhaps the only soldier revered on both sides of the Mason-Dixon line, Richard Rowland Kirkland is arguably the most famous "common" soldier of the American Civil War. His act of compassion at the battle of Fredericksburg in December of 1862 is both controversial and shrouded in mystery. Although this act is well known, the rest of his story, along with that of the 2nd South Carolina Infantry is not. In addition to Fredericksburg, this Angel of Marye's Heights was present at some of most fierce fighting of the war and most iconic locations:

Henry House Hill at First Bull Run
The Dunker Church at Antietam
The Peach Orchard and Wheatfield at Gettysburg
Snodgrass Hill at Chickamauga

Anthony J. Ziebol is an accomplished journalist and writer from Minneapolis, Minnesota. After receiving a degree in print journalism from the University of Wisconsin-Eau Claire, Ziebol moved back to the Twin Cities and began writing as a staff reporter for newspapers and as a freelancer for Midwest magazines. He has given presentations on Kirkland and the 2nd South Carolina regiment throughout the United States. He will have copies of his book for sale for $20.
2017-2018 Program Schedule
| | | |
| --- | --- | --- |
| Sept. 11, 2017 | The Lost Gettysburg Address: Charles Anderson's Civil War Odyssey | David Dixon |
| Oct. 9, 2017 | The Angel of Marye's Heights | Anthony J. Ziebol |
| Nov. 13, 2017 | The American Civil War and Religion | David Garshaw |
| Dec. 11, 2017 | The Kimberlins Go to War: A Union Family in Copperhead Country | Mike Murphy |
| Jan. 8, 2018 | Surveillance and Spies in the Civil War: Exposing Confederate Conspiracies in America's Heartland | Stephen Towne |
| Feb. 12, 2018 | Indianapolis and the War of the Rebellion | Fred Schaefer |
| Mar. 12, 2018 | 58th Indiana and their role at Stone's River | Kraig McNutt |
| Apr. 9, 2018 | Cold Blooded Envenomation of 1861-65 | Mark Laubacher |
| May 14, 2018 | Above Us or Around Us: The Story and Men of the Bloody Eighth | Jenny Thompson |
| June 11, 2018 | On a Great Battlefield: The Making, Management, and Memory of Gettysburg National Military Park, 1933-2013 | Jennifer Murray |

Click here for a copy of the current Hardtack newsletter.

Click here for information on a book describing the first 50 years of the Indianapolis Civil War Round Table