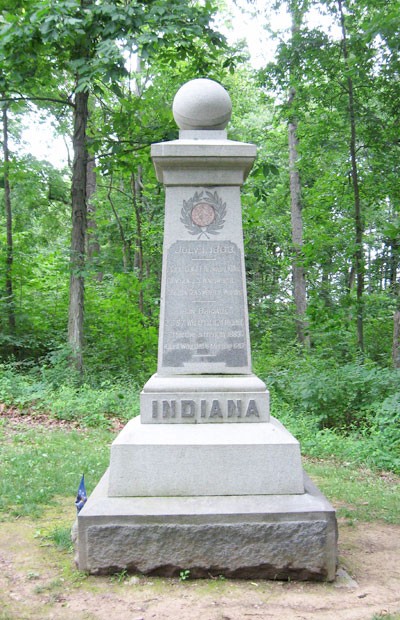 Monument to the 19th Indiana Infantry at Gettysburg
About Us
We are amateur and professional historians in Central Indiana dedicated to studying and understanding the American Civil War. We welcome anyone interested in the American Civil War to join the ICWRT. Annual dues are $30 for an individual, $35 for a family,or $15 for a student. The dues are used to defray production costs of our newsletter, Hardtack, and other programs. We invite you to attend a meeting as a guest and we feel that you will enjoy your visit and enlist. To enlist for the upcoming campaign, Click Here for a membership form


Next Program
All Programs are Free & Open to the Public
What:
Forbidden, Hidden, and Forgotten: Women in the Ranks during the Civil War
Who:
Shelby Harriel
When:
Monday
June 13, 2016, at 6:45 p.m
Where:
MCL Cafeteria - Township Line
(2370 West 86th Street)


Please note that this meeting is on a Monday at 6:45 PM at the Township Line MCL

Hundreds, perhaps thousands, of women boldly defied Victorian societal norms when they disguised themselves as men, shouldered muskets, and joined the firing line. As soldiers, they participated in every major engagement from the beginning to the end of the Civil War. Their wartime experiences and sacrifices mirrored those of their male counterparts. They served picket duty along the snowy banks of the Rappahannock, languished in Andersonville, suffered debilitating wounds during the Wilderness, succumbed to disease in New Orleans, and lost their lives during Pickett's charge. WHY did these women risk the shame that discovery would bring them and their families? WHY did they risk their lives fighting a man's war? During this audio/visual presentation, you will learn the answer in their own words. In addition, hear generals, common soldiers, and ordinary citizens describe their interactions with these women warriors.

Shelby Harriel received her B.A. in History with a minor in mathematics in May 1997, and her M.Ed. with an emphasis in mathematics and history in 2005. She earned both degrees from the University of Southern Mississippi. Shelby has been teaching mathematics at Pearl River Community College since 2007. While her career has always revolved around mathematics, Shelby actively pursues her passion for history through research, exchanging ideas, and speaking to the public. For her efforts, Pearl River Community College bestowed upon her the Outstanding Humanities Instructor award in 2014.
2016-2017 Program Schedule
| | | |
| --- | --- | --- |
| Sept 12, 2016 | Fire in the Water | James Alexander Thom |
| Oct. 10, 2016 | Who Was Private John Rooks? : Counties Named for Civil War Combat Deaths | Charlie Aiken |
| Nov. 14, 2016 | The War Not Forgotten - Civil War Soldiers, Central State Hospital and PTSD | Robert Houghtalen |
| Dec. 12, 2016 | Maps, Mapping & Mapmakers of the Civil War: A Novice Explorer's Perspective | Lou Malcomb |
| Jan. 9, 2017 | Lew Wallace's Civil War Career | Ray Boomhower |
| Feb. 13, 2017 | Paying for the Civil War: Taxes, Internal Revenue and Enrolled Agents | Jim Floyd |
| Mar. 13, 2017 | Mr. Lincoln's Brown Water Navy | Gary Joiner |
| Apr. 10, 2017 | A Visit with Jennie Wade's Mother | Connie Hansen |
| May 8, 2017 | The Murder of Major General William "Bull" Nelson | Robert I. Girardi |
| June 12, 2017 | Backstage at the Lincoln Assassination: The Untold Story of the Actors and Stagehands at Ford's Theatre | Thomas Bogar |

Click here for a copy of the current Hardtack newsletter.

Click here for information on a book describing the first 50 years of the Indianapolis Civil War Round Table