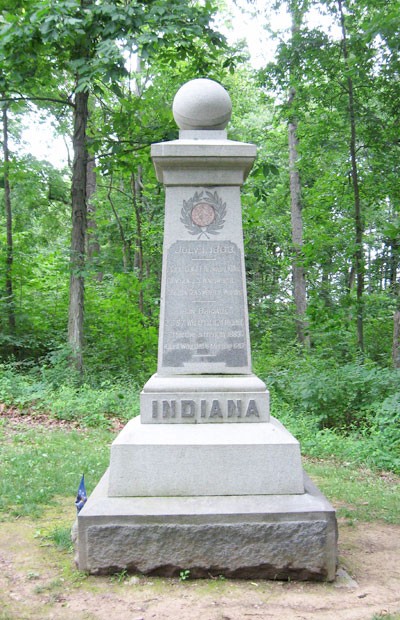 Monument to the 19th Indiana Infantry at Gettysburg
About Us
We are amateur and professional historians in Central Indiana dedicated to studying and understanding the American Civil War. We welcome anyone interested in the American Civil War to join the ICWRT. Annual dues are $30 for an individual, $35 for a family,or $15 for a student. The dues are used to defray production costs of our newsletter, Hardtack, and other programs. We invite you to attend a meeting as a guest and we feel that you will enjoy your visit and enlist. To enlist for the upcoming campaign, Click Here for a membership form


Next Program
All Programs are Free & Open to the Public
What:
Fire in the Water
Who:
James Alexander Thom
When:
Monday
September 12, 2016, at 7:30 p.m
Where:
Indiana Historical Society Auditorium (Directions)


Fire in the Water relates the fates of Andersonville prisoners trying to get home to Indiana, Ohio, etc., who unfortunately get aboard the steamboat SULTANA. One of the protagonists is a Harper's Weekly war correspondent on board the vessel, heading for Springfield to cover Lincoln's funeral. The SULTANA tragedy is the central action of the story, but the undercurrent is the spirit of Lincoln, and the determination of two war-addled men to get to his funeral. The book ends in the Saluda graveyard near Madison, Indiana.

James Alexander Thom is a well known Indiana historical author. His Civil War interest is deep and personal. He is old enough to remember attending funerals of Union veterans who were his relatives. His namesake was killed at Fredericksburg, and his great grandfather survived Andersonville. He was also a historical lecturer for several years on the Delta Queen line, which helped prepare him to tell a steamboat story.
2016-2017 Program Schedule
| | | |
| --- | --- | --- |
| Sept 12, 2016 | Fire in the Water | James Alexander Thom |
| Oct. 10, 2016 | Who Was Private John Rooks? : Counties Named for Civil War Combat Deaths | Charlie Aiken |
| Nov. 14, 2016 | The War Not Forgotten - Civil War Soldiers, Central State Hospital and PTSD | Robert Houghtalen |
| Dec. 12, 2016 | Maps, Mapping & Mapmakers of the Civil War: A Novice Explorer's Perspective | Lou Malcomb |
| Jan. 9, 2017 | Lew Wallace's Civil War Career | Ray Boomhower |
| Feb. 13, 2017 | Paying for the Civil War: Taxes, Internal Revenue and Enrolled Agents | Jim Floyd |
| Mar. 13, 2017 | Mr. Lincoln's Brown Water Navy | Gary Joiner |
| Apr. 10, 2017 | A Visit with Jennie Wade's Mother | Connie Hansen |
| May 8, 2017 | The Murder of Major General William "Bull" Nelson | Robert I. Girardi |
| June 12, 2017 | Backstage at the Lincoln Assassination: The Untold Story of the Actors and Stagehands at Ford's Theatre | Thomas Bogar |

Click here for a copy of the current Hardtack newsletter.

Click here for information on a book describing the first 50 years of the Indianapolis Civil War Round Table