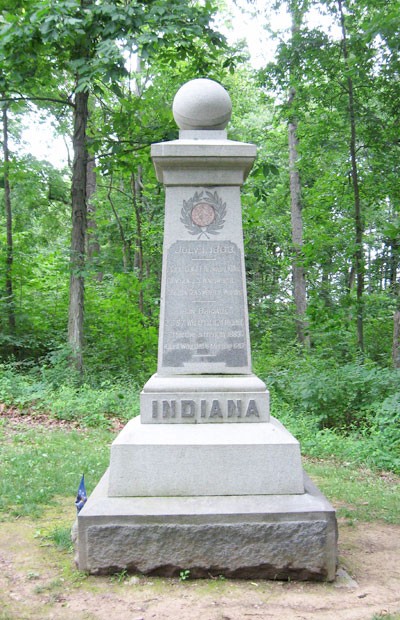 Monument to the 19th Indiana Infantry at Gettysburg
About Us
We are amateur and professional historians in Central Indiana dedicated to studying and understanding the American Civil War. We welcome anyone interested in the American Civil War to join the ICWRT. Annual dues are $30 for an individual, $35 for a family,or $15 for a student. The dues are used to defray production costs of our newsletter, Hardtack, and other programs. We invite you to attend a meeting as a guest and we feel that you will enjoy your visit and enlist. To enlist for the upcoming campaign, Click Here for a membership form


Next Program
All Programs are Free & Open to the Public
What:
The Dawn of the Political Cartoon: The Civil War Era
Who:
Phillip Seyfrit
When:
Thursday
November 10, 2014 at 7:30PM
Where:
Indiana Historical Society (Directions)
Though commonplace in newspapers and magazines today, political cartoons were relatively new during the mid-nineteenth century. This talk explores popular views of the American Civil War and surrounding incidents as expressed through political cartoons of the time. Presented through power point and featuring visual images of select political cartoons from a variety of Civil War era publications.

Scott Schroeder is a native South Dakotan and a professional Physical Therapist and Certified Athletic Trainer currently practicing at IU Health in Bloomington. He is also an adjunct faculty member of IUPUI in the Department of Physical Therapy. He was born on the 150th birthday of Ulysses S. Grant. His interest in the American Civil War began while an 11 year old child on a family vacation that included visits to Springfield, Illinois and Lookout Mountain. Since that time, he has been inescapably enthralled with the Civil War and Abraham Lincoln. Among other organizations, he is a member of the Society of Civil War Historians and the Lincoln Forum. He currently serves as President and Program Chair for the Monroe County Civil War Roundtable in Bloomington, Indiana.
2014-2015 Program Schedule
| | | |
| --- | --- | --- |
| Sept. 11, 2014 | Northern Civil War Prison Camps | Gerald Jones |
| Oct. 9, 2014 | Battle of Richmond, Kentucky | Phillip Seyfrit |
| Nov. 10, 2014 | The Dawn of the Political Cartoon: The Civil War Era | Scott Schroeder |
| Dec. 8, 2014 | Honest Abe | Danny Russel |
| Jan. 12, 2015 | The Civil War Road Trip Series | Michael Weeks |
| Feb. 9, 2015 | Lincoln and the Constitution | Brian Dirck |
| Mar. 9, 2015 | Civil War Medicine | Fred Schaefer |
| Apr. 13, 2015 | Maggie: The Civil War Journals of Margaret Nichol Vaulx | Ross Hudgins |
| May 14, 2015 | Major Martin Delaney: Highest ranking black Civil War officer | Khabir Shareef |
| June 8, 2015 | Six Turning Points of the American Civil War | Ed Bonekemper |

Click here for a copy of the current Hardtack newsletter.

Click here for information on a book describing the first 50 years of the Indianapolis Civil War Round Table