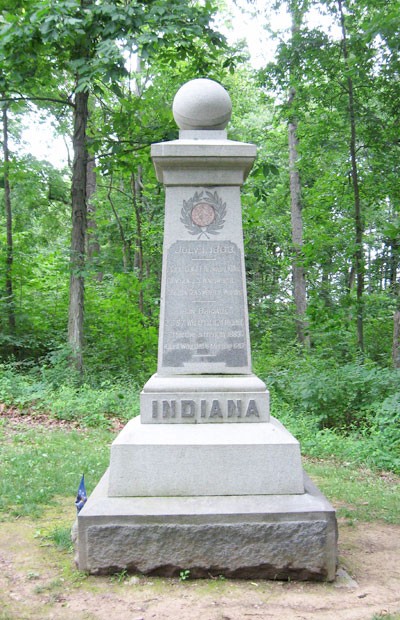 Monument to the 19th Indiana Infantry at Gettysburg
About Us
We are amateur and professional historians in Central Indiana dedicated to studying and understanding the American Civil War. We welcome anyone interested in the American Civil War to join the ICWRT. Annual dues are $30 for an individual, $35 for a family,or $15 for a student. The dues are used to defray production costs of our newsletter, Hardtack, and other programs. We invite you to attend a meeting as a guest and we feel that you will enjoy your visit and enlist. To enlist for the upcoming campaign, Click Here for a membership form


Next Program
All Programs are Free & Open to the Public
What:
Civil War Feuds:
A Family Tradition
Who:
Peter Mullen
When:
Monday
September 14, 2015 at 6:45PM
Where:
Indiana State Library
(315 West Ohio Street)
Numerous feuds arose during these troubled times pitting neighbor against neighbor, family against family, and brother against brother resulting in conflicts lasting well into the twentieth century. This presentation is dedicated to all who suffered emotional or physical injury or death related to those troubled times in our nation's history with a commitment to NEVER allow a sequel of Americans against Americans to occur in the future of the United States of America. It focuses on notorious feuds that occurred in Kentucky, Virginia, West Virginia, Tennessee, Georgia, and Florida with a blend of nineteenth century historical, political, and cultural aspects of each area.

Peter Mullen is a native-born Kentuckian and a graduate of the University of Louisville and Western Kentucky University, He currently lives in Callahan, Florida where he is a professor at Florida State College in Jacksonville. He is a member of the Speakers Bureau for the Georgia Historical Society, Sons of Confederate Veterans, Michigan Civil War Sesquicentennial, Connecticut Civil War Sesquicentennial, Sons of Union Veterans of the Civil War, Anthropological Multicultural Association of the South, and Florida State College. He lectures to professional and historical societies nationwide in observance of the Sesquicentennial Commemoration of the Civil War.
2015-2016 Program Schedule
| | | |
| --- | --- | --- |
| Sept. 14, 2015 | Civil War Feuds: A Family Tradition | Peter Mullen |
| Oct. 12, 2015 | Alexander Gardner: Civil War Photographs and More | Steve Rolfe |
| Nov. 9, 2015 | William S. Rosecrans and the Union Victory | David Moore |
| Dec. 14, 2015 | The Irish Volunteer | Mark LaPointe |
| Jan. 11, 2016 | Acoustic Shadows During the Civil War | Tony Roscetti |
| Feb. 8, 2016 | Abraham Lincoln's Boyhood Years | Alan Teller |
| Mar. 14, 2016 | The Battle of New Market | Dave Sutherland |
| Apr. 11, 2016 | Brown Water Navy | Gary Joiner |
| May 9, 2016 | Marching Home: Union Veterans and Their Unending Civil War | Brian Jordan |
| June 13, 2016 | Forbidden, Hidden, & Forgotten: Women in the Ranks During the Civil War | Shelby Harriel |

Click here for a copy of the current Hardtack newsletter.

Click here for information on a book describing the first 50 years of the Indianapolis Civil War Round Table