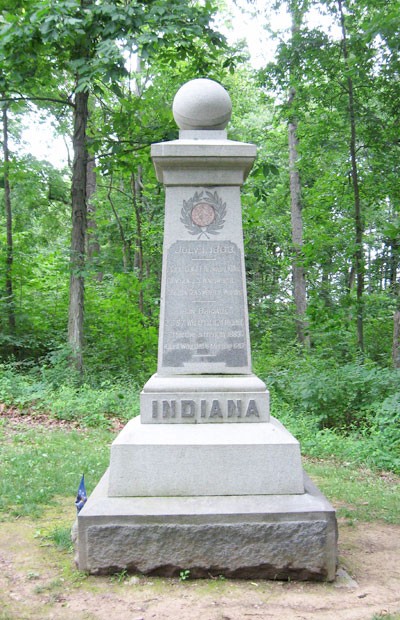 Monument to the 19th Indiana Infantry at Gettysburg
About Us
We are amateur and professional historians in Central Indiana dedicated to studying and understanding the American Civil War. We welcome anyone interested in the American Civil War to join the ICWRT. Annual dues are $30 for an individual, $35 for a family,or $15 for a student. The dues are used to defray production costs of our newsletter, Hardtack, and other programs. We invite you to attend a meeting as a guest and we feel that you will enjoy your visit and enlist. To enlist for the upcoming campaign, Click Here for a membership form


Next Program
All Programs are Free & Open to the Public
What:
Maj. Martin Delaney: Highest Ranking Black Civil War Officer
Who:
Khabir Shareef
When:
Thursday
May 14, 2015 at 7:00PM
Where:
Indiana State Library
(315 West Ohio Street)
Please note that this meeting is on a Thursday at 7:00 PM at the Indiana State Library. Enter the building on the north side. We are meeting in the History Room on the second floor of the south side of the building. Free parking is available in the surface parking lot just north of the State Capital building.

As Major Delany takes the audience back in time, he engages the onlookers in conversation regarding the participation of black soldiers during the war. Delany will recount points in his personal story that brought him to this time and place; he will recruit and instruct volunteers to participate in the 105th Colored Infantry, his second regiment. After the new recruits are honorably discharged from active service, Major Delany will enjoin the entire audience to join in singing one of the black regimental songs. The Major will revisit pertinent points given during his presentation as he concludes his story. If time permits, a Question and Answer Session will follow the presentation.

Known as Khabir the Storyteller, Khabir Shareef has been an actor since 1987. Khabir believes that "the story is a shared experience where the teller and the listeners become united through the use of their imaginations." First-person interpretation is one of many ways a story may be told and shared. Khabir's presentation has universal appeal and enhances understanding of African-American history and culture.
2014-2015 Program Schedule
| | | |
| --- | --- | --- |
| Sept. 11, 2014 | Northern Civil War Prison Camps | Gerald Jones |
| Oct. 9, 2014 | Battle of Richmond, Kentucky | Phillip Seyfrit |
| Nov. 10, 2014 | The Dawn of the Political Cartoon: The Civil War Era | Scott Schroeder |
| Dec. 8, 2014 | Honest Abe | Danny Russel |
| Jan. 12, 2015 | The Civil War Road Trip Series | Michael Weeks |
| Feb. 9, 2015 | Lincoln and the Constitution | Brian Dirck |
| Mar. 9, 2015 | Civil War Medicine | Fred Schaefer |
| Apr. 13, 2015 | Maggie: The Civil War Journals of Margaret Nichol Vaulx | Ross Hudgins |
| May 14, 2015 | Major Martin Delaney: Highest ranking black Civil War officer | Khabir Shareef |
| June 8, 2015 | Six Turning Points of the American Civil War | Ed Bonekemper |

Click here for a copy of the current Hardtack newsletter.

Click here for information on a book describing the first 50 years of the Indianapolis Civil War Round Table