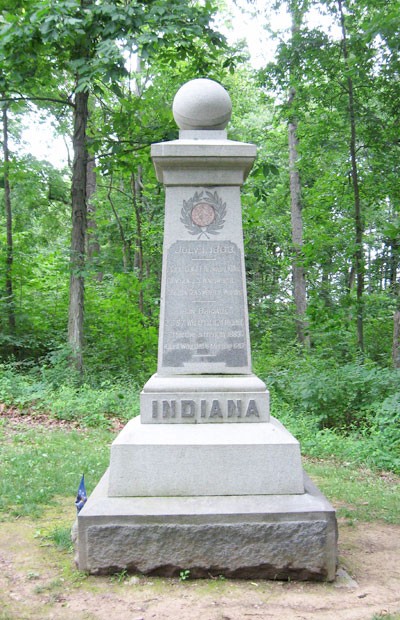 Monument to the 19th Indiana Infantry at Gettysburg
About Us
We are amateur and professional historians in Central Indiana dedicated to studying and understanding the American Civil War. We welcome anyone interested in the American Civil War to join the ICWRT. Annual dues are $30 for an individual, $35 for a family,or $15 for a student. The dues are used to defray production costs of our newsletter, Hardtack, and other programs. We invite you to attend a meeting as a guest and we feel that you will enjoy your visit and enlist. To enlist for the upcoming campaign, Click Here for a membership form


Next Program
All Programs are Free & Open to the Public
What:
Abraham Lincoln's Boyhood Years
Who:
Alan Teller
When:
Monday
February 8, 2016, at 7:30 p.m.
Where:
Indiana Historical Society Auditorium (Directions)


Our speaker will talk about Abraham Lincoln's life as a child in Indiana. Through a series of questions, he will bring his perspective as a student and interpreter of Lincoln's history. The program will incorporate some audience participation along the way.

Alan Teller has lived in Kokomo for the past 39 years, but still calls Connersville, IN home. Belonging to many genealogy and lineage societies, he has served in many different offices on local, state, and national levels. Mr. Teller is a self-described "Civil War nut," and has spoken all over Indiana about Abraham Lincoln's life in Indiana for years.
2015-2016 Program Schedule
| | | |
| --- | --- | --- |
| Sept. 14, 2015 | Civil War Feuds: A Family Tradition | Peter Mullen |
| Oct. 12, 2015 | Alexander Gardner: Civil War Photographs and More | Steve Rolfe |
| Nov. 9, 2015 | William S. Rosecrans and the Union Victory | David Moore |
| Dec. 14, 2015 | Acoustic Shadows During the Civil War | Tony Roscetti |
| Jan. 11, 2016 | The Irish Brigade at Antietam | Tony Trimble |
| Feb. 8, 2016 | Abraham Lincoln's Boyhood Years | Alan Teller |
| Mar. 14, 2016 | The Battle of New Market | Dave Sutherland |
| Apr. 11, 2016 | Brown Water Navy | Gary Joiner |
| May 9, 2016 | Marching Home: Union Veterans and Their Unending Civil War | Brian Jordan |
| June 13, 2016 | Forbidden, Hidden, & Forgotten: Women in the Ranks During the Civil War | Shelby Harriel |

Click here for a copy of the current Hardtack newsletter.

Click here for information on a book describing the first 50 years of the Indianapolis Civil War Round Table