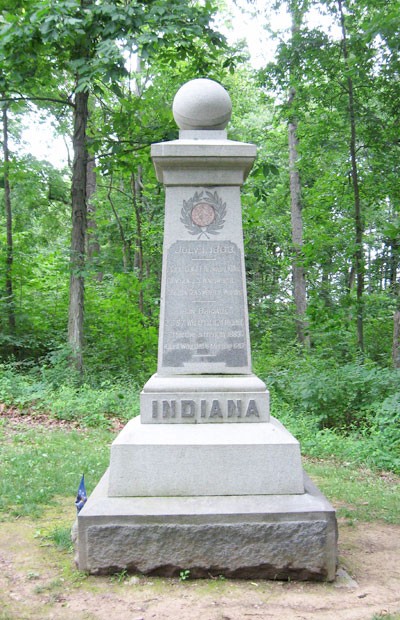 Monument to the 19th Indiana Infantry at Gettysburg
About Us
We are amateur and professional historians in Central Indiana dedicated to studying and understanding the American Civil War. We welcome anyone interested in the American Civil War to join the ICWRT. Annual dues are $30 for an individual, $35 for a family,or $15 for a student. The dues are used to defray production costs of our newsletter, Hardtack, and other programs. We invite you to attend a meeting as a guest and we feel that you will enjoy your visit and enlist. To enlist for the upcoming campaign, Click Here for a membership form


Next Program
All Programs are Free & Open to the Public
What:
Northern Civil War Prison Camps
Who:
Gerald Jones
When:
Sept 8, 2014 at 6:30PM
Where:
Indiana Historical Society (Directions)
One of the many controversial subjects brought about by the Civil War was the treatment of prisoners in the prison camps both North and South. Many questions have been asked and many still go unanswered. It is a hotly discussed subject still today. There has been much written about the Southern camps, primarily Andersonville and Libby Prison. Starting about 5 or 6 years ago, more books and information have been introduced about the Northern Civil War Prison Camps, primarily Camp Douglas in Chicago and Elmira Prison in New York State. This talk will look at the Northern prisons and address some of the controversies and questions regarding them.

Gerald G. Jones has been a lifelong resident of Madison County, Indiana. He graduated from Pendleton High School and has a degree in accounting from Ball State University. Since 1998 he has served as the Treasurer for the Madison County Historical Society, and has been Chairman of the Madison County Historical Society Civil War Roundtable since it began in 1991. He also served as President of the Indianapolis Civil War Round Table in 1991-1992.
2014-2015 Program Schedule
| | | |
| --- | --- | --- |
| Sept. 8, 2014 | Northern Civil War Prison Camps | Gerald Jones |
| Oct. 13, 2014 | Battle of Richmond, Kentucky | Phillip Seyfrit |
| Nov. 10, 2014 | The Dawn of the Political Cartoon: The Civil War Era | Scott Schroeder |
| Dec. 8, 2014 | Honest Abe | Danny Russel |
| Jan. 12, 2015 | The Civil War Road Trip Series | Michael Weeks |
| Feb. 9, 2015 | Lincoln and the Constitution | Brian Dirck |
| Mar. 9, 2015 | Civil War Medicine | Fred Schaefer |
| Apr. 13, 2015 | Maggie: The Civil War Journals of Margaret Nichol Vaulx | Ross Hudgins |
| May 11, 2015 | Major Martin Delaney: Highest ranking black Civil War officer | Khabir Shareef |
| June 8, 2015 | Six Turning Points of the American Civil War | Ed Bonekemper |

Click here for a copy of the current Hardtack newsletter.

Click here for information on a book describing the first 50 years of the Indianapolis Civil War Round Table