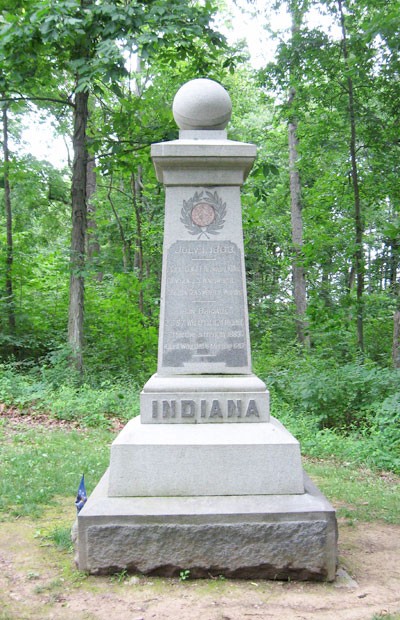 Monument to the 19th Indiana Infantry at Gettysburg
About Us
We are amateur and professional historians in Central Indiana dedicated to studying and understanding the American Civil War. We welcome anyone interested in the American Civil War to join the ICWRT. Annual dues are $30 for an individual, $35 for a family,or $15 for a student. The dues are used to defray production costs of our newsletter, Hardtack, and other programs. We invite you to attend a meeting as a guest and we feel that you will enjoy your visit and enlist. To enlist for the upcoming campaign, Click Here for a membership form


Next Program
All Programs are Free & Open to the Public
What:
Sundered by Memory: The Confederate Flag, Black Confederates, and the Racialization of Civil War Memory
Who:
Justin Ellison
When:
March 10, 2014 at 7:30PM
Where:
Indiana Historical Society (Directions)
Justin Ellison is currently a PhD candidate at Indiana University. He graduated from the University of Northern Colorado in 2006, writing his Honor's Thesis on the role of the 1st Colorado Regiment at the Battle of Glorieta Pass, and earned his M.A. from Indiana University in 2009. His current dissertation topic explores the use of Civil War memory and the creation of racial nationalism in the United States.
2013-2014 Program Schedule
| | | |
| --- | --- | --- |
| Sept. 9, 2013 | Embalming in the Civil War | Jon Austin |
| Oct. 14, 2013 | 500 Strong: Wabash College Students in the Civil War | Professor James Barnes and his wife, Patience Barnes |
| Nov. 11, 2013 | U.S. Christian Commission | Kevin & Cindy Rushton |
| Dec. 9, 2013 | Edmund Ruffin | Dan Moll |
| Jan. 13, 2014 | Sutler Tokens | Dennis Haskett |
| Feb. 10, 2014 | VMI's Civil War Legacy | Dave Sutherland |
| Mar. 10, 2014 | Sundered by Memory: The Confederate Flag, Black Confederates, and the Racialization of Civil War Memory | Justin Ellison |
| Apr. 14, 2014 | The Shadow of Shiloh: Major General Lew Wallace in the Civil War | Gail Stephens |
| May 12, 2014 | The Battle of Cedar Creek, by Col. W.H. Polhamus | Fred Leickly |
| Jun. 9, 2014 | 'Liberal Provisions . . . Nothing . . . Action which Comes Far Short': State and Local Government Attempts to Aid Soldiers' Families in Indiana | Anita Morgan |

Click here for a copy of the current Hardtack newsletter.

Click here for information on a book describing the first 50 years of the Indianapolis Civil War Round Table