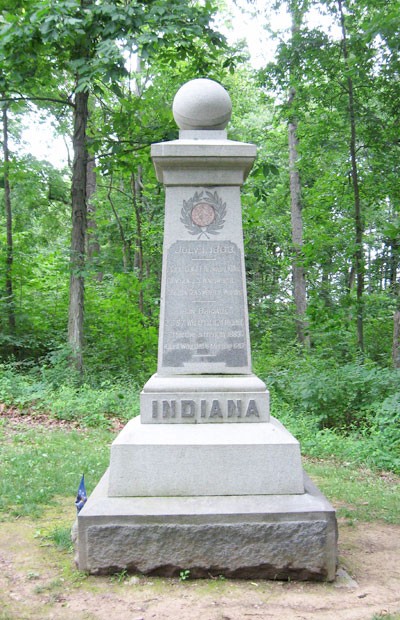 Monument to the 19th Indiana Infantry at Gettysburg
About Us
We are amateur and professional historians in Central Indiana dedicated to studying and understanding the American Civil War. We welcome anyone interested in the American Civil War to join the ICWRT. Annual dues are $30 for an individual, $35 for a family,or $15 for a student. The dues are used to defray production costs of our newsletter, Hardtack, and other programs. We invite you to attend a meeting as a guest and we feel that you will enjoy your visit and enlist. To enlist for the upcoming campaign, Click Here for a membership form


Next Program
All Programs are Free & Open to the Public
What:
Surveillance and Spies in the Civil War
Who:
Stephen E. Towne
When:
Monday
January 8, 2018, at 7:30 p.m
Where:
Indiana Historical Society Auditorium (Directions)


At the beginning of the rebellion, state governors in Ohio, Indiana, and Illinois cooperated with federal law enforcement officials in various unsuccessful attempts to investigate reports of secret groups and individuals who opposed the Union war effort. Starting in 1862, army commanders took it upon themselves to initiate investigations of antiwar sentiment in those states. By 1863, several of them had established intelligence operations staffed by hired civilian detectives and by soldiers detailed from their units to chase down deserters and draft dodgers, to maintain surveillance on suspected persons and groups, and to investigate organized resistance to the draft. By 1864, these spies had infiltrated secret organizations that, sometimes in collaboration with Confederate rebels, aimed to subvert the war effort. Stephen E. Towne is the first to thoroughly explore the role and impact of Union spies against Confederate plots in the North. This new analysis invites historians to delve more deeply into the fabric of the Northern wartime experience and reinterpret the period based on broader archival evidence.

Stephen E. Towne is university archivist at IUPUI. He has written and edited books and articles on the American Civil War in the Midwest.
2017-2018 Program Schedule
| | | |
| --- | --- | --- |
| Sept. 11, 2017 | The Lost Gettysburg Address: Charles Anderson's Civil War Odyssey | David Dixon |
| Oct. 9, 2017 | The Angel of Marye's Heights | Anthony J. Ziebol |
| Nov. 13, 2017 | The American Civil War and Religion | David Garshaw |
| Dec. 11, 2017 | The Kimberlins Go to War: A Union Family in Copperhead Country | Mike Murphy |
| Jan. 8, 2018 | Surveillance and Spies in the Civil War: Exposing Confederate Conspiracies in America's Heartland | Stephen Towne |
| Feb. 12, 2018 | Indianapolis and the War of the Rebellion | Fred Schaefer |
| Mar. 12, 2018 | Above Us or Around Us: The Story and Men of the Bloody Eighth | Jenny Thompson |
| Apr. 9, 2018 | Cold Blooded Envenomation of 1861-65 | Mark Laubacher |
| May 14, 2018 | James Davy's Civil War Diary | Meredith and Judy Wilson |
| June 11, 2018 | On a Great Battlefield: The Making, Management, and Memory of Gettysburg National Military Park, 1933-2013 | Jennifer Murray |

Click here for a copy of the current Hardtack newsletter.

Click here for information on a book describing the first 50 years of the Indianapolis Civil War Round Table