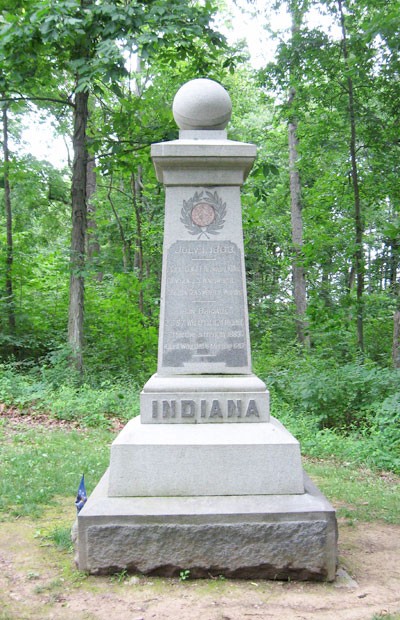 Monument to the 19th Indiana Infantry at Gettysburg
About Us
We are amateur and professional historians in Central Indiana dedicated to studying and understanding the American Civil War. We welcome anyone interested in the American Civil War to join the ICWRT. Annual dues are $30 for an individual, $35 for a family,or $15 for a student. The dues are used to defray production costs of our newsletter, Hardtack, and other programs. We invite you to attend a meeting as a guest and we feel that you will enjoy your visit and enlist. To enlist for the upcoming campaign, Click Here for a membership form


Next Program
All Programs are Free & Open to the Public
What:
William S. Rosecrans and the Union Victory
Who:
David Moore
When:
Monday
November 9, 2015 at 7:30 PM
Where:
Indiana Historical Society Auditorium (Directions)


Our speaker is the author of the first biography of Union General William S. Rosecrans in more than fifty years. David Moore tells the story of his military successes and the important results that led to the Union victory in the Civil War: winning the first major campaign of the war in West Virginia in 1861; victories in northeastern Mississippi that made the Vicksburg Campaign possible; gaining the victory without which Abraham Lincoln said the "nation could scarcely have lived over;" conducting two brilliant campaigns in Tennessee and fighting the battle of Chickamauga (giving permanent possession of Chattanooga to the federals); and defending Missouri from an invasion in 1864. He also explains why Rosecrans was removed four times despite his military successes and examines the important part politics played in the war.

David Moore has been a history guide for over thirty-five years. He specializes in the mid-Atlantic area near his home base of Washington, D.C. He stumbled upon the Rosecrans story quite unexpectedly while searching for the grave of Mary Suratt in Washington's Mt. Olivet cemetery. He spent more than twenty years researching General Rosecrans's military career. His book William S. Rosecrans and the Union Victory was published in March 2014 and is in the collection of over one hundred libraries in the United States, Canada, and several overseas countries.

He will have copies of the book for sale ($25) and will be signing books.
2015-2016 Program Schedule
| | | |
| --- | --- | --- |
| Sept. 14, 2015 | Civil War Feuds: A Family Tradition | Peter Mullen |
| Oct. 12, 2015 | Alexander Gardner: Civil War Photographs and More | Steve Rolfe |
| Nov. 9, 2015 | William S. Rosecrans and the Union Victory | David Moore |
| Dec. 14, 2015 | The Irish Volunteer | Mark LaPointe |
| Jan. 11, 2016 | Acoustic Shadows During the Civil War | Tony Roscetti |
| Feb. 8, 2016 | Abraham Lincoln's Boyhood Years | Alan Teller |
| Mar. 14, 2016 | The Battle of New Market | Dave Sutherland |
| Apr. 11, 2016 | Brown Water Navy | Gary Joiner |
| May 9, 2016 | Marching Home: Union Veterans and Their Unending Civil War | Brian Jordan |
| June 13, 2016 | Forbidden, Hidden, & Forgotten: Women in the Ranks During the Civil War | Shelby Harriel |

Click here for a copy of the current Hardtack newsletter.

Click here for information on a book describing the first 50 years of the Indianapolis Civil War Round Table