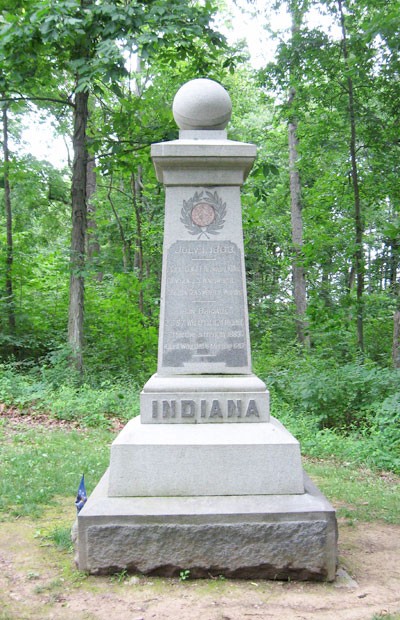 Monument to the 19th Indiana Infantry at Gettysburg
About Us
We are amateur and professional historians in Central Indiana dedicated to studying and understanding the American Civil War. We welcome anyone interested in the American Civil War to join the ICWRT. Annual dues are $30 for an individual, $35 for a family,or $15 for a student. The dues are used to defray production costs of our newsletter, Hardtack, and other programs. We invite you to attend a meeting as a guest and we feel that you will enjoy your visit and enlist. To enlist for the upcoming campaign, Click Here for a membership form


Next Program
All Programs are Free & Open to the Public
What:
Battle of Richmond, Kentucky
Who:
Phillip Seyfrit
When:
Thursday
October 9, 2014 at 7:00PM
Where:
Indiana State Library
(315 West Ohio Street)
Please note that this meeting is on a Thursday at 7:00 PM at the Indiana State Library. Enter the building on the north side. We are meeting in the History Room on the second floor of the south side of the building. Free parking is available in the surface parking lot just north of the State Capital building.

Come and learn about the most complete victory one side had over the other during the entire Civil War: The Battle of Richmond, Kentucky. The second largest Civil War battle fought on Kentucky soil, the Battle of Richmond pitted seasoned Confederates under Edmund Kirby Smith (Shown above) against raw Federal recruits (mostly from Indiana) under William "Bull" Nelson. Fought over the course of a day and a half, the Battle of Richmond is the only example of a Federal Army ceasing to exist at the end of the fight. Learn how two Indiana generals, Mahlon Manson and Charles Cruft, figure in the Union debacle.

A lifelong Madison County, Kentucky resident, Phillip Seyfrit left a twenty year career in the funeral industry, and accepted the position of Historic Properties Director for Madison County. His duties include management and proper interpretation of the properties relating to the Battle of Richmond and the other Madison County parks sites. Phil is active in many national, state and local Civil War preservation and history groups. He has been published in several Civil War periodicals and enjoys visiting Civil War battlefields and related sites. Phillip portrays Federal Colonel William Link and Confederate Colonel Preston Smith at events relating to the Battle of Richmond. He is program chairman of the Madison Co. Civil War Roundtable and is a member of the Kentucky Civil War Roundtable and Cincinnati Civil War Roundtable. He was recently appointed by Kentucky Governor Steve Beshear to the Kentucky Civil War Sesquicentennial Commission.
2014-2015 Program Schedule
| | | |
| --- | --- | --- |
| Sept. 11, 2014 | Northern Civil War Prison Camps | Gerald Jones |
| Oct. 9, 2014 | Battle of Richmond, Kentucky | Phillip Seyfrit |
| Nov. 10, 2014 | The Dawn of the Political Cartoon: The Civil War Era | Scott Schroeder |
| Dec. 8, 2014 | Honest Abe | Danny Russel |
| Jan. 12, 2015 | The Civil War Road Trip Series | Michael Weeks |
| Feb. 9, 2015 | Lincoln and the Constitution | Brian Dirck |
| Mar. 9, 2015 | Civil War Medicine | Fred Schaefer |
| Apr. 13, 2015 | Maggie: The Civil War Journals of Margaret Nichol Vaulx | Ross Hudgins |
| May 14, 2015 | Major Martin Delaney: Highest ranking black Civil War officer | Khabir Shareef |
| June 8, 2015 | Six Turning Points of the American Civil War | Ed Bonekemper |

Click here for a copy of the current Hardtack newsletter.

Click here for information on a book describing the first 50 years of the Indianapolis Civil War Round Table