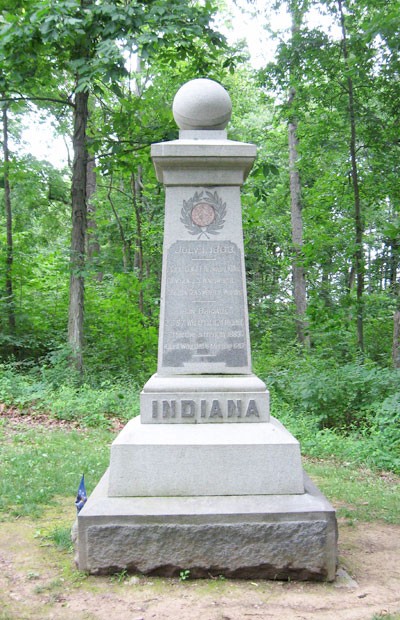 Monument to the 19th Indiana Infantry at Gettysburg
About Us
We are amateur and professional historians in Central Indiana dedicated to studying and understanding the American Civil War. We welcome anyone interested in the American Civil War to join the ICWRT. Annual dues are $30 for an individual, $35 for a family,or $15 for a student. The dues are used to defray production costs of our newsletter, Hardtack, and other programs. We invite you to attend a meeting as a guest and we feel that you will enjoy your visit and enlist. To enlist for the upcoming campaign, Click Here for a membership form


Next Program
All Programs are Free & Open to the Public
What:
Paying for the Civil War: Taxes, Internal Revenue, and Enrolled Agents
Who:
Jim Floyd
When:
Monday
February 13, 2017, at 7:30 p.m
Where:
Indiana Historical Society Auditorium (Directions)


When Abraham Lincoln was inaugurated in 1861 as the 16th President of the United States, he found himself the leader of a house divided and deeply in debt. To pay for the war, Congress enacted several new laws to rapidly increase revenue. Legislation included imposing taxes and duties on goods, trades & occupations; implementing the first personal income tax; establishing the office of Commissioner of Internal Revenue; and giving the Department of the Treasury the ability to empower and regulate agents who represented war loss claimants. Period artifacts will be displayed as we discuss how the acts passed during the Civil War still influence income taxation today.

Jim Floyd, a resident of Indianapolis, IN, is an Enrolled Agent licensed by the U.S. Department of the Treasury to practice before the Internal Revenue Service. The descendant of seven Civil War soldiers, Jim is a proud member of Sons of Union Veterans of the Civil War and Sons of Veterans Reserve. He earned his Bachelor of Fine Arts and Master of Education degrees from American Intercontinental University, and is commissioned as a Kentucky Colonel.
2016-2017 Program Schedule
| | | |
| --- | --- | --- |
| Sept 12, 2016 | Fire in the Water | James Alexander Thom |
| Oct. 10, 2016 | Who Was Private John Rooks? : Counties Named for Civil War Combat Deaths | Charlie Aiken |
| Nov. 14, 2016 | The War Not Forgotten - Civil War Soldiers, Central State Hospital and PTSD | Robert Houghtalen |
| Dec. 12, 2016 | Maps, Mapping & Mapmakers of the Civil War: A Novice Explorer's Perspective | Lou Malcomb |
| Jan. 9, 2017 | Lew Wallace's Civil War Career | Ray Boomhower |
| Feb. 13, 2017 | Paying for the Civil War: Taxes, Internal Revenue and Enrolled Agents | Jim Floyd |
| Mar. 13, 2017 | Mr. Lincoln's Brown Water Navy | Gary Joiner |
| Apr. 10, 2017 | A Visit with Jennie Wade's Mother | Connie Hansen |
| May 8, 2017 | The Murder of Major General William "Bull" Nelson | Robert I. Girardi |
| June 12, 2017 | Backstage at the Lincoln Assassination: The Untold Story of the Actors and Stagehands at Ford's Theatre | Thomas Bogar |

Click here for a copy of the current Hardtack newsletter.

Click here for information on a book describing the first 50 years of the Indianapolis Civil War Round Table